History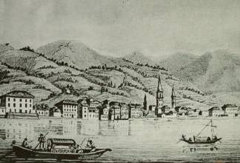 Probably,Domaso is of Roman origin. During the Middle Ages, it was as important as Gravedona. They had many fights both from political and religious point of view.

The built-up area consists of several hamlets and groups of houses, extending from the gentle slopes down to the lake.

In the old village there are still the typical arcade houses with high stairs and underpasses.

These houses have still beautiful sacred and profane frescoes of 15 th century. You can discover also narrow and steep lanes, still decorated. Miscaslano road is one of these little streets. Along the lake, you can see a lot of "villas". One of the most important is "Villa Camilla" of the 18 th century.

Once, it belonged to the Segrebondi's family, later it belonged to an english family, The Hill. Nowaday, it is the townhall. It has many rooms decorated with frescoes.