Lario Motor Sport - Gokart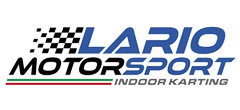 PURE ADRENALIN AND RACING SPIRIT
A latest generation track characterized by a spirit of racing. Pure adrenalin designed for the amusement of both amateur and professional drivers. This is the KARTING INDOOR LARIO MOTORSPORT of Colico.

KARTING INDOOR ON THE LAKE COMO
The idea to establish an indoor karting track on the Lake Como, in Colico, came from the expertise developed through the racing team and the enthusiasm for the motor sports. A project that saw the collaboration of Paolo Gagliardini and his PGK, a company specialized in the design of indoor kartodromes all over Europe.

Lario Motorsport places at your disposal a fleet of over 30 karts, which are able to satisfy all your needs. Each kart, both for adults and children, is in conformity with the highest safety and reliability criteria, without renouncing the performance and amusement that we want to guarantee to every driver. To ensure amusement and safety we have chosen the Sodi Rental range, which are considered the best karts of the sector.