Water Sport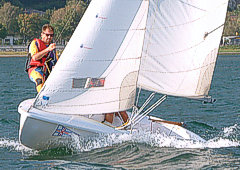 Sail
In northern Lario there are many famous sailing club, almost all the villages have a sailing base. It is easy to find a place where practise this sport. All the club have courses for beginners for april to october. It's also possible to cruise with bigger boats.

Windsurf
Many schools of Windsurf offer courses for children and beginners, specialisation courses but particulary you can have fun.
It is then possible to rent the facilities necessary to do this sport.

Kitesurf
The KiteSurf is a very young sport: is a new way to sail drawn by a kite. In Alto Lario too this sport is becoming more and more famous and there are many schools where you can see the facilities, the fly tecniques and the control of the kite,the security rules, body drag the use of the trapeze, the start and the going with the table. All is made in total security being in water followed by a boat of the school.

Waterski
When there is no wind the lake becames a mirror and you may do waterski. There is a school good organized by international trainers and it is possible to do this sport at every level. The school has an american performed boat for competition, a deck and many sport facilities.

Canoe
The northern part of the lake is a wild one: you may visit it in canoe, a relaxing experience and at the same time a discovery.
Crossing the river Mera, a of the lake, you arrive in the Natural Riserve of "Pian di Spagna" the wildest area in Lombardia. Along the river you came to Lago of Mezzola, a part of the Riserve. Here you may see a unique landscape: reeds on a shore and deep water, reefs, isolated beaches and a wonderful waterfall on the other.
Wassersportcenter Domaso

As a centre recognised by the SWAV (Swiss Windsurf Schools Association) and VDWS (International Schools Association for Watersports) in the area of windsurfing, catamaran sailing and biking, you can count on our professional advice at all times. We ...

More »

Morgan Kite School

The Morgan's Kite School offers courses for all levels, from the basic course for beginners to advanced course for those who have to improve in the course experts for learning jumps and evolutions.

In the grass of the Sporting Club Domaso ...

More »

Nautica Domaso - Nautical center

Since 40 years Nautica Domaso offers a complete range of services for all those people who loves nautical sports.

The center is in Domaso on the lake Como, a famous tourist destination, wellknown in all of Europe.

It is equipped ...

More »

Scuola Nautica Gini

La Scuola Nautica Gini, organizza a Domaso corsi di vela di vari livelli.
I Corsi di vela sono ideali per chi si avvicina per la prima volta alla vela e per chi ha già esperienza, ma vuole rinfrescare le proprie conoscenze.

I corsi ...

More »

Como lake Boat

Comolakeboats.it offers you the opportunity to rent a boat with or without a license or try water skiing and wakeboarding.

Renting boats you can enjoy the extraordinary beauty of Lake Como in safety, with EEC certificate launches new gener ...

More »

Yacht Club Como - Scuola Vela

La Scuola di Vela nasce a Como nel 1950 e fu, in assoluto, la prima Scuola di Vela organizzata in Italia.

Da circa 6 anni è attiva la sede di Domaso dove si tengono corsi e campus di Vela e Windsurf.
L'attività della Scuola si svolge tr ...

More »